Additional 25% tariffs targeting $50 billion of U.S. imports

Penalties on beef, cotton, wheat, sorghum, rice start July 6
Trade tensions between the U.S. and China ratcheted higher after the Asian nation said it will follow through on plans to levy tariffs on a range of American farm goods including soybeans and corn.
An additional 25 percent tariff will levied on about $50 billion of U.S. imports, China's Ministry of Finance said Saturday in a statement on its website. Tariffs on about $34 billion of those imports will start July 6, covering agricultural products including: soy, corn, wheat, cotton, rice, sorghum, beef, pork, poultry, fish, dairy products, nuts and vegetables.
Farm commodities have been a key battleground in the escalating trade war between the world's two biggest economies. China previously announced plans to impose 25 percent duties on products including soybeans, wheat, corn, sorghum, cotton and beef in response to proposed tariffs from the U.S. In April, the Asian nation started levying additional taxes on American fruit, nuts, pork and wine.
In 2017, China's agriculture imports from U.S. were worth $24.1 billion, the People's Daily reported on May 24, citing customs data. That's about 19 percent of total farm imports worth $125.86 billion, according to Ministry of Agriculture and Rural Affairs data.
COTTON
Cotton represents another major trade flow from the U.S., the world's third-biggest producer. Exports of raw cotton from the U.S. fetched $5.8 billion last year, government data show. China levies a 1 percent duty on about 894,000 tons a year of cotton imports that come under its low-tariff-rate quota system. Beyond that, purchases are subject to a duty as high as 40 percent.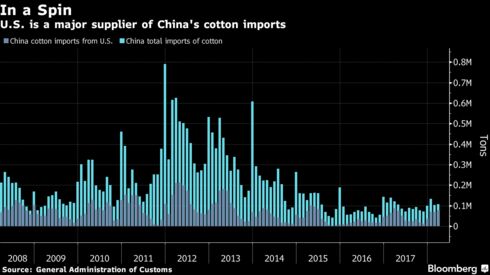 Earlier this month, the government issued an additional800,000 tons of import quotas to private firms to ease concerns about a looming shortage. Purchases from the U.S. were about 506,000 tons in 2017 out of a total 1.2 million tons.
Source:
Bloomberg