CARRIE MUEHLING
Clothing brand representatives learned more about how cotton is grown during a recent BASF Cotton Production Field Day in Lubbock, Texas. Part of the program included information about e3™ cotton, an effort to produce economically sustainable cotton that's good for the environment.
"The idea of the product is that it's a sustainable cotton and it's a continual improvement commitment by the farmers that decide to grow it," said Andrew Olah, CEO of Olah, Inc. "And for the brands that want to get involved with it, they can associate with the farmers in the process that is actually good for the environment."
Representatives from major clothing brands including Ralph Lauren, Target, Wrangler Jeans and JCPenney had questions for farmers and BASF representatives about the process of cotton production.
"A big problem in the clothing business and in consumer apparel, in general, these days, is disinformation," said Bob Antoshak, Managing Director at Olah, Inc. "The amount of smoke and spin that's out there in the trade and in the consumer world is so extensive that events like this help us to show factually what the cotton is all about, how its grown, but more importantly, who is doing the growing. It's a chance for these buyers to actually meet farmers, and that's a really critical element of this program."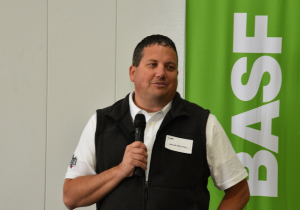 The program is just as important to cotton producers, said Malin Westfall, U.S. Cotton Lead for BASF.
"We're hosting a group of clothing brands, which are far removed from the farmer, because they want to gain a better understanding of what farmers do. How they are raising cotton, what kind of management practices they use, because it's important to them and their consumers," said Westfall.
Westfall said defining sustainability is becoming more and more important throughout the production chain. And while that's a conversation that typically focuses on food, it's just as important when it comes to fiber.
Listen to Chuck's interview with Andrew and Robert here: 

INTERVIEW WITH ROBERT ANTOSHAK AND ANDREW OLAH OF OLAH, INC.
Listen to Chuck's interview with Malin here: 

INTERVIEW WITH MALIN WESTFALL, US COTTON LEAD
Source: agwired.com