Barani Krishnan
Joining The Commodity Inflation Club
For a fourth time in five months, cotton prices have hit decade highs. For investors, the question is simple: Will the market retreat meaningfully to allow an entry off its highs, and how much higher can it scale thereafter?
Cotton's technicals flag a consolidation on its charts that could make it a valuable buy before the fiber lifts off again.
As for what its new peaks may be, physical demand from economies expanding aggressively from the coronavirus pandemic and a higher tolerance for inflation suggest that cotton could have another banner year, like in 2021.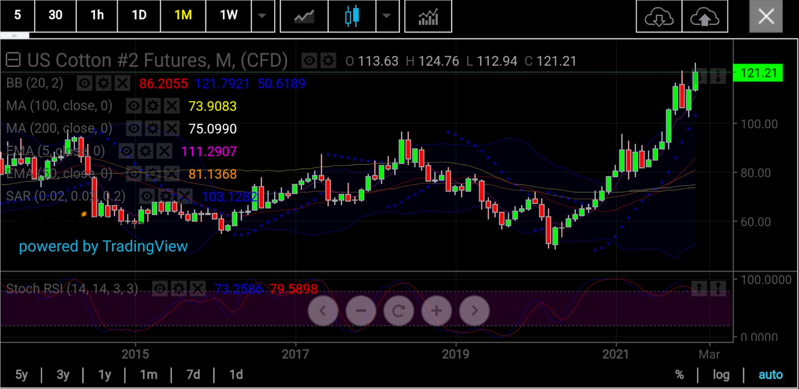 Jack Scoville, chief crop analyst at Chicago's Price Futures Group says:
"It's been a demand market. Ideas are that demand remains strong for US cotton even with the weaker export sales reports over the last couple of weeks."
"Asian demand is still very strong and likely to hold at high levels for the future. US consumer demand has been very strong as well despite higher prices and inflation."
A critical raw material for many items including garments, bedding and soft furnishings, cotton has always been the 'quiet workhorse' of the industrial commodities space, with a performance often under-reported by a media which tends to focus on things like oil, gold and copper.
The pandemic, however, altered cotton's supply-demand dynamics like it did to most other commodities, first impacting production and then delaying shipments that caused prices of the fiber to swell. From a 2020 gain of just 13%, cotton had a banner year in 2021, rallying 45%.
This year so far, cotton is up almost 7%. Last week, the spot contract for cotton on ICE Futures US hit $1.2476 per lb, its highest since a previous peak of $1.6205 in July 2011.
The run-up came a day after the US Department of Agriculture trimmed its cotton output estimate to 17.62 million bales, mostly because of yield revisions for Texas, the top-producing state in America. Prior to that, the USDA had projected 18.28 million bales for December. The agency noted that shipping disruptions would also affect world trade of cotton.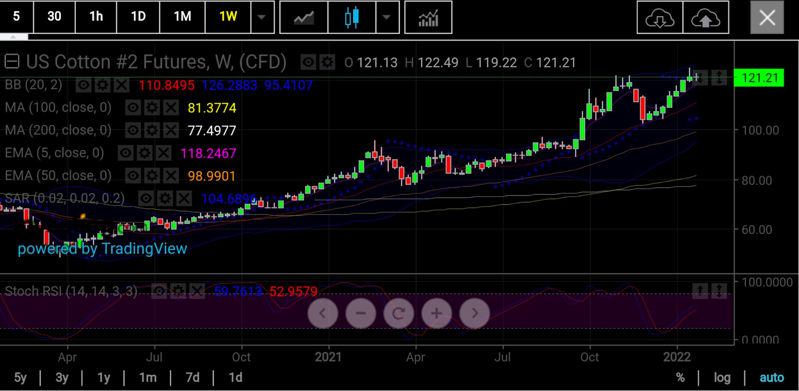 Last week's high also marked the fourth time in five months that the spot contract scaled 2011 peaks, adding to the prospect of greater inflation in the United States after the four-decade highs noted for the Consumer Price Index in the year to December. Other commodities that had significantly added to inflation since the outbreak of the pandemic include oil, natural gas, copper, arabica coffee, lean hogs and soybeans.
Sunil Kumar Dixit, chief technical strategist at skcharting.com, said while charts indicate that the cotton rally could continue through 2022, pullbacks were also likely to entice new buyers.
"It's important to note that cotton has made a rising streak for eight consecutive weeks and this puts the commodity in the window of time for a bearish correction which is likely to last for two to three weeks," said Dixit.
He added:
"Sustaining this multi-year breakout may be rather challenging for cotton as its monthly chart's stochastic reading of 73/79 gives a negative crossover, which hints at a likely retest of horizontal support at $1.15 a pound."
"If the $1.15 support fails to hold, expect further downside to the main demand zone of $1.00-$1.05 rather quickly, as traders would rush to book whatever gains are left on the plate."
Cotton's spot contract settled Tuesday's New York trade at $1.21.
With the downdraft, cotton also shows much potential to strike new decade highs, said Dixit.
"A rebound after correction or a continued rally could give cotton momentum to go above $1.25. It may even extend to $1.28 and $1.32 on a conservative note. If there is enough strength for a continued run higher, cotton could be eyeing for the next leg $1.42 and $1.58 over extended periods."
Disclaimer: Barani Krishnan uses a range of views outside his own to bring diversity to his analysis of any market. For neutrality, he sometimes presents contrarian views and market variables. He does not hold a position in the commodities and securities he writes about.
Πηγή: msn.com